Student Business Days: August 10th-13th (8:30AM-2:30PM) *Students/Parents can pick up schedules, purchase parking pass, locker, yearbook, & get bus info in Front Office
Our Premier Campus Experience (Soft Opening):
Time: 9:45 (Bus Drop Off)-1:00PM (Dismissal)
August 10th-9th graders last name A-M....... August 11th-9th graders last name N-Z
August 12th-10th graders last name A-M......August 13th-10th graders last name N-Z
August 14th-11th graders last name A-M......August 17th-11th graders last name N-Z
August 18th-12th graders last name A-M......August 19th-12th graders last name N-Z
MZHS Recognizes Class of 2020 Valedictorian & Salutatorian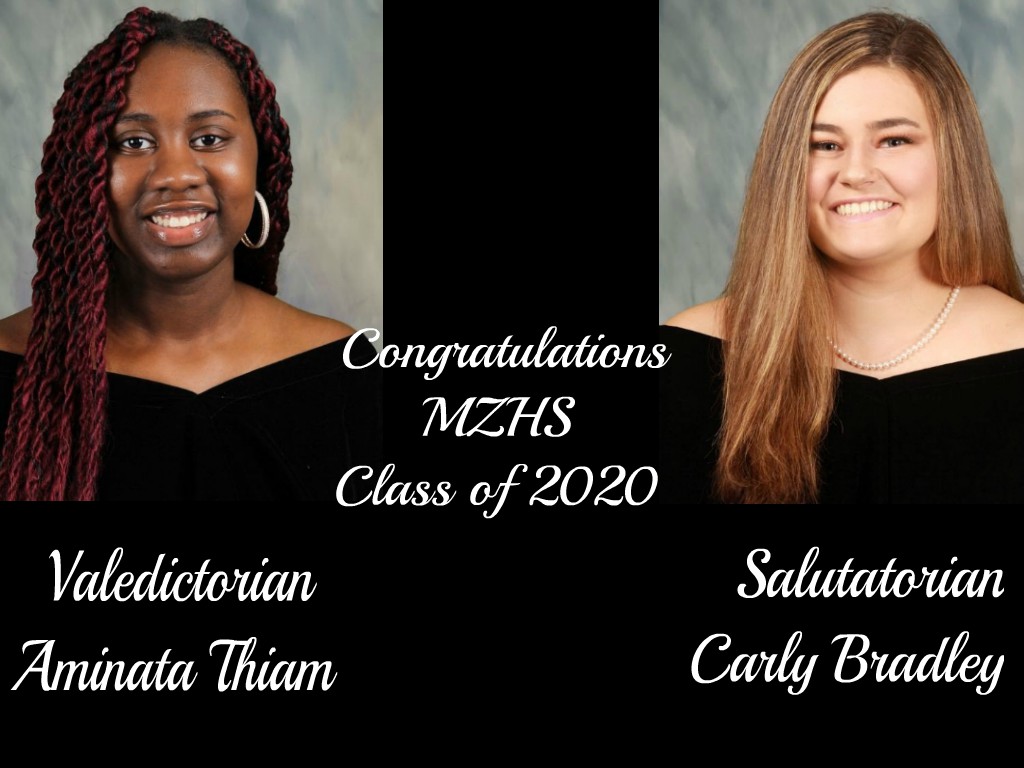 MZHS 2020 Academic Awards
2020 MZHS Honor Graduates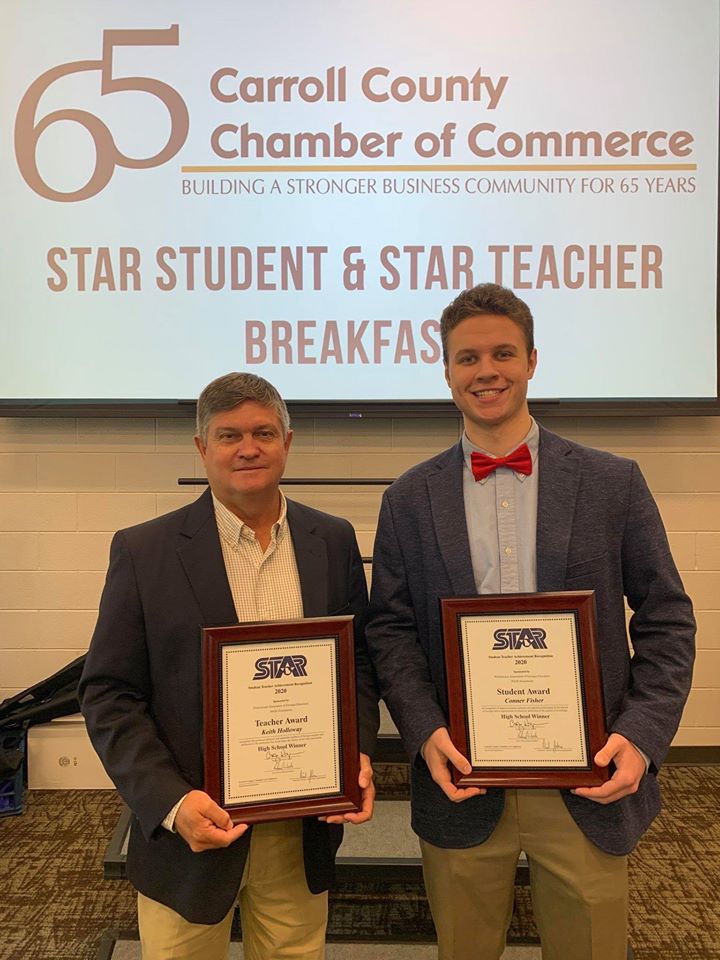 Congratulations to the 2020 STAR STUDENT~CONNER FISHER & STAR TEACHER COACH KEITH HOLLOWAY
The PAGE Student Teacher Achievement Recognition (STAR) program honors Georgia's highest achieving high school seniors and the teachers who have been most instrumental in their academic development.
To obtain the STAR nomination, high school students must have the highest score on any single test date of the SAT taken through the November test date of their senior year and be in the top 10 percent or top 10 students of their class based on grade point average. Nominee's SAT scores must be equal to or higher than the 2019 national average scores on the Evidence Based Reading and Writing and Math sections of the SAT.
MZHS is proud to recognize senior Conner Fisher as the 2020 STAR STUDENT. He is the son of Brian and Elizabeth Fisher. Conner selected Coach Keith Holloway as his STAR TEACHER.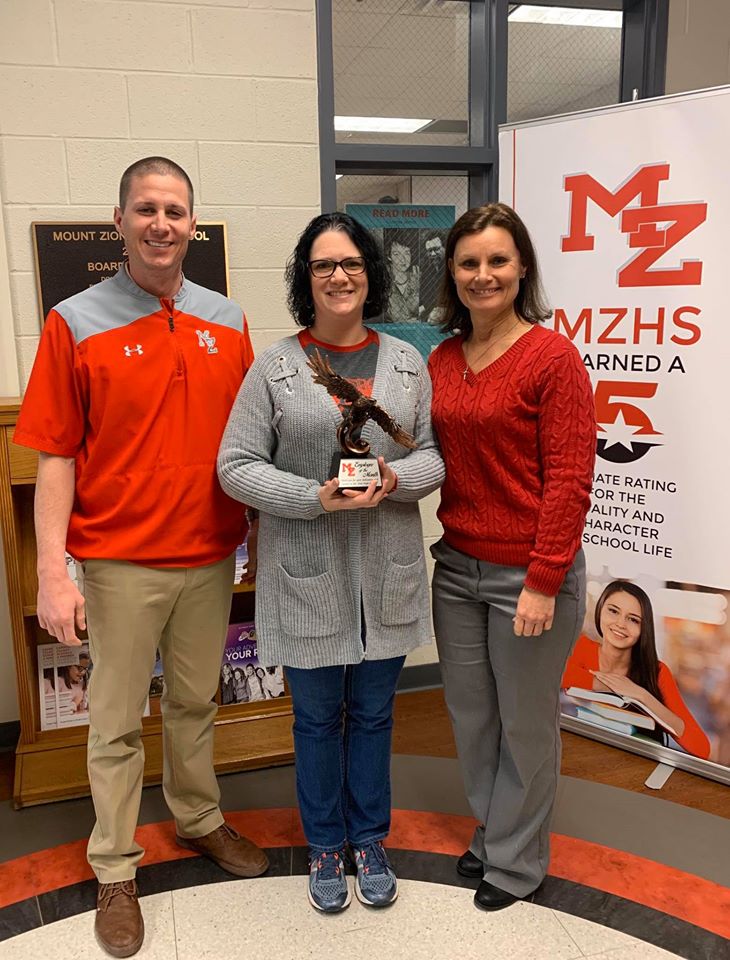 February Employee of the Month~Mrs. Amy Collins
Congratulations to Amy Collins on being nominated the MZHS Employee of the Month for February!

According to Mrs. Fjeran, Amy is truly deserving of this award! Amy goes above and beyond for everyone here. People constantly walk in her office for help, asking for forgiveness when they have forgotten to do a purchase order. or just to chat. Amy is always welcoming and approachable. Everyone loves working with her and she is an example of an employee who is here for not only the students but faculty as well."
National Signing Day Feb 5, 2020 Congratulations to Our Athletes
Emily Phillips ~ Andrew College ~ Softball
Meredith Head ~ Huntingdon College~Tennis
Sawyer Anderson ~Mesabi Range College ~Football
Logan Buchanan ~ Arkansas Pine Bluff ~ Football
Jarred Knight ~ Huntingdon College ~ Football
Ben May ~ Illinois State ~ Football
Chase Zachary ~ Columbus State ~ Football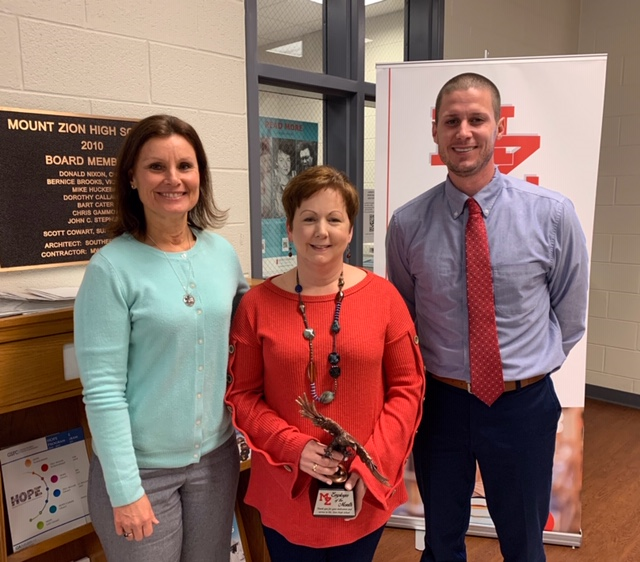 January Employee of the Month ~ Mrs. Yvonne Fjeran

2020 Teacher of the Year ~ Coach Tyler Wright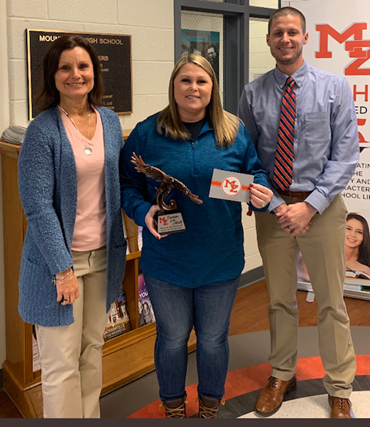 December Employee of the Month ~ Mrs. Jennifer Roland
MZHS Goes Medieval at UWG STEM Competition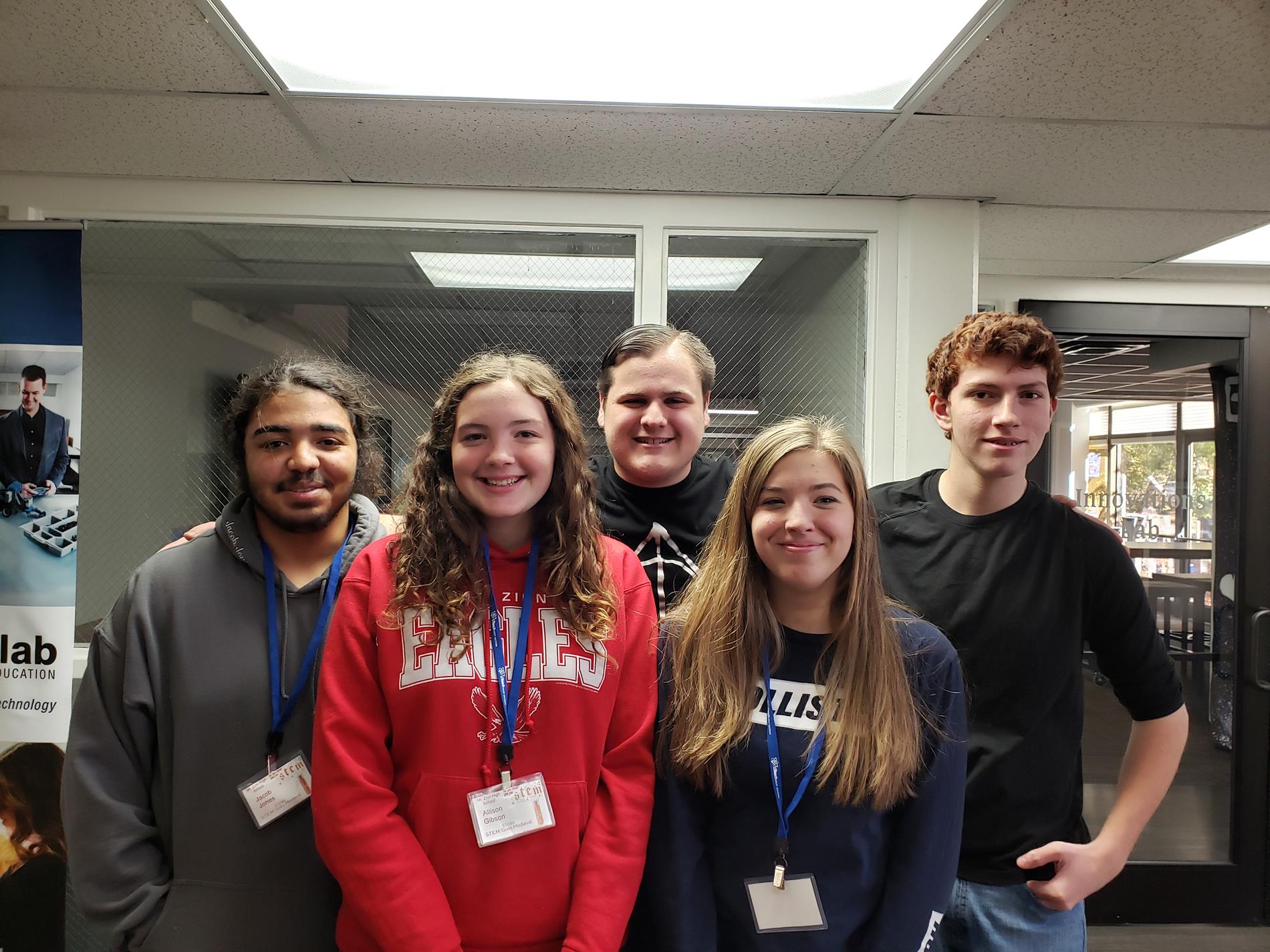 The STEM team represented MZH at the UWG STEM Goes Medieval Competition on Saturday, November 16. STEM team members are Jacob Jones, Allison Gibson, Bailey Brown, Alexa McCarty and Caleb Morse.
2019 Veteran's Day Assembly with Senator Dugan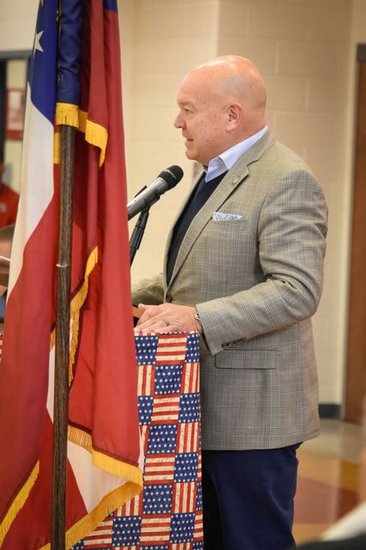 Mt. Zion High School's Veteran's Day Celebration
Mt. Zion High School commemorated Veterans Day with an assembly of students, teachers and friends of the community on Monday morning, November 11th. The guest speaker, Senator Mike Dugan, brought an inspirational message for both the veterans present and the student body. ROTC cadets DJ Freeman, Cole Black, Jay Cody presented the colors and Senior Allison welcomed the guests. The band performed "American Flourish" and "To Honor: The Armed Forces of the United States of America" while the MZMS Chorus, under the direction of Ms. Ezzell, performed "God Bless the USA". A moment of silence was observed followed by the reading of the Veterans Day prayer by Emily Phillips.
MZHS Competes in Carroll County Technology Competition
Mt. Zion High School students competed in the Carroll County Technology Competition on November 6. Alexa McCarty and Reese McGuire placed 2nd in 9-10 Audio Production, Michael Cantrell and Jacob Jones placed 3rd in 11-12 Audio Production, Uriah Acord and Katelyn Hindsman placed 1st in 9-10 Digital Photography, Anna Grace Hennesy and Alex Nguyen placed 1st in 11-12 Multimedia Applications, Shelby Horn placed 1st in 11-12 Video Production, and McKayla Marlow and Sarah Grace Holt placed 2nd in 9-10 Video Production. Josh Redding and William McKerely placed 1st in 9-10 Internet Applications. The technology team is sponsored by Mrs. Heather Morse.